Inflatable Insurance for Rentals & Indoor Centers

Cossio Insurance Agency provides quality, low cost inflatable insurance for bounce houses, inflatable slides, jumpers & more! Whether you need Party Rental Insurance or have an indoor inflatable business, our staff specializes in finding competitive insurance quotes for your individual risks. Inflatable insurance programs vary with different companies and there are many companies that are pulling out of the industry...but not here at the CIA! We represent all of the best programs in the industry and are able to get you insurance coverage that you would be unable to find elsewhere.
Our insurance quotes take into consideration your experience in the inflatable industry, your insurance track record and the units that you own and operate. This way we are able to provide you with affordable, low cost prices and the proper insurance coverage for your bounce houses & other amusement devices. Insurance for Inflatables is our specialty; we do more business with inflatable rentals companies than any of our other entertainment programs. This makes us experts on what it takes to get you the right insurance coverage the first time! Don't take our word for it...see what our customers are saying
If you would like to get a quick estimate on bounce house liability insurance for rentals, please call us at (864) 688-0121 or use our inflatable rental estimate calculator. In order to get an actual formal quote, please complete an application. The coverage for an indoor inflatable center will vary based on the specifics of each unique center, so we are unable to provide a quick estimate calculator here on the website. In order to get a quick estimate for Indoor Centers please give us a call at (864) 688-0121.

---

---
Other Recommended Coverages
On top of your regular inflatable insurance general liability policy there are some additional types of insurance that you may need to make sure that your business is fully covered.
Workers Compensation
Inland Marine (Property)
Commercial Auto
Cyber Liability Coverage
Mechanical Bull Coverage

Preferred Provider
Ninja Jump, the leader in licensed inflatable products, has chosen the CIA to be a Ninja Jump preferred insurance provider for all their customers. We are pleased to be honored and chosen to provide insurance for their customers. Visit Ninja Jump today for your next licensed inflatable.

Preferred Provider
eInflatables, the largest manufacturer of inflatable made entirely in the USA has chosen the CIA as it's preferred insurance provider for their inflatables. We are excited to provide insurance to eInflatable customers. Visit eInflatables today for your next inflatable.

InflatableOffice offers rental software to automate your business. Quotes, emails, surveys, contracts, pay & book online. Integrates w/Google Calendar, Authorize, Quickbooks. Customers of both the CIA & InflatableOffice can receive a 10% discount on their premium & 10% off an InflatableOffice subscription. Visit InflatableOffice today.
Resources
The following documents include a sample waiver that you can use for customers, as well as templates for keeping track of your inventory.
---
"
Why didn't I Buy the Right Coverage?
" was presented at the Orlando AIR show by owner of the CIA Larry Cossio in January of 2013. This presentation goes over ways to
keep your inflatable business safe
& talks about different
inflatable insurance coverages
you should have.
Part 1: Inflatable Rental Presentation
|
Part 2: Inflatable Rental Presentation
|
Part 3: Inflatable Rental Presentation
---
Estimate Calculator for Rentals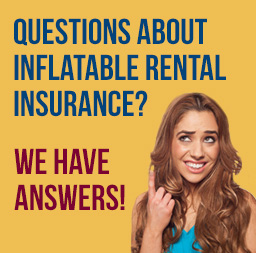 NOTE: This is only a ROUGH ESTIMATE for inflatable rental insurance and not a formal quote. Quote price includes General Liability & Accident Medical & is for someone who has had insurance for 3 years without any claims. Additional discounts and or charges may apply, rates may vary by state. To get an actual quote please fill out an application
Indoor Centers: Please give on of our agents a call at 864-688-0121 for a quick estimate. Due to variations in the setup of different indoor centers we are unable to give a quick estimate online.